The Colour of Mulberry
A colour evocative of the English countryside and the beauty of its landscape, Mulberry Green is also our signature shade and emblematic of our commitment to social responsibility. This bespoke colour was created for us in 2015 and it is born from our heritage and our values: classic, but also modern - a piece of future history.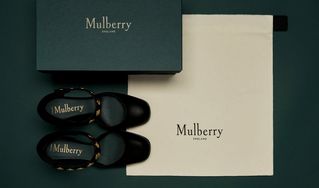 Packaging
Mulberry is focussed on introducing new, innovative packaging solutions - customer facing and throughout our supply chain – to reduce the impact we are having on our planet.
To develop our signature shade of green, we worked with G.F Smith, a UK paper specialist with over 100 years' experience. All our Mulberry Green packaging is made from paper produced in England's Lake District, on the banks of the River Kent.
Every sheet of Mulberry Green paper is composed of 20% CupCycled coffee cups, with another 30% from other post-consumer waste and 50% from FSC-certified sustainably managed forests. 
Every day in the UK over 7 million disposable coffee cups are thrown away. That's 2.5 billion a year and less than 1 in 400 are currently recycled. CupCycling transforms these cups into our beautiful, sustainable paper. 
Product
In Autumn Winter 2020, we introduced this iconic shade to our collection for the first time. You'll find the colour of Mulberry lending its distinct character to signature silhouettes as well as instant classics. 
Mulberry Green
Mulberry Green is also the name we give to our responsibility commitments past, present and future. We see these as a perpetual work in progress, striving to create positive change and build a sustainable legacy through the care and attention we take in designing, sourcing, manufacturing and maintaining our products.